Before Buying Our Clumber Spaniel Puppies
Please, before you decide where to buy your new Clumber Spaniel, take the time to educate yourself. It can take some time to find a reputable dog breeder and get a quality, healthy Clumber Spaniel, but your new puppy will be worth the wait.
Stay away from internet classified retail sites that have numerous breeds for sale. Most dogs on these sites come from Backyard Breeders and Puppy Mills. Did you know that a reputable Clumber Spaniel breeder takes the time to study the pedigree? That a good breeder does health tests and will be there for you for the life of your dog? And did you know that they will often charge the same price, even sometimes less, than a backyard breeder?
Please read the chart below for examples of what to look for when picking a dog breeder.
It is very important to do your research. There are many Puppy Mill Clumbers being sold on internet sites and these sites often take credit cards or Paypal. If you would like assistance in finding a reputable breeder, or want to talk about one you have found, please contact me or see Clumber Spaniel Club Of America's Breeder Referral Site for a wealth of information.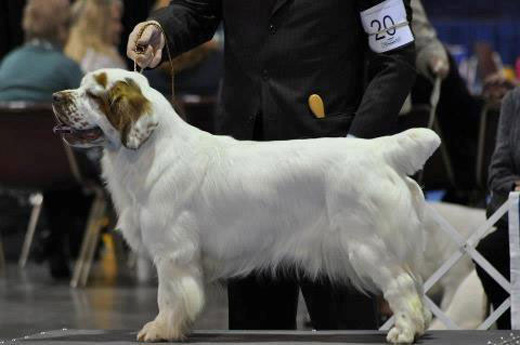 For more information about finding a reputable, responsible breeder and thus ensuring a quality Clumber Spaniel, Contact Us 757-335-2102
Reputable Breeders
Reputable Breeders VS Backyard Breeders
"Into" dogs (shows, training, clubs, etc.).
Not "into" dogs (has "pets" around the house).
Belongs to dog clubs and organizations.
Is not involved in the "dog world."
Proves quality of dogs and suitability for breeding by competing for titles and certificates in conformation, hunt test, obedience, agility, field trialing, tracking, etc.
Quality of dogs is almost always substandard, does not test his
dogs in shows or trials.


Pedigrees are filled with dogs who have obtained show
titles/working certificates; Never breeds dogs without "papers."
Pedigrees are mostly a list of pets bred by backyard breeders;
pups may not even have "papers"; may be mutts (Clumingers).
Is there for the life of your dog, always willing to help.
Says "Goodbye" and "Good luck."
Knowledgeable in every facet of breed, including health issues/defects. Researches genetics when choosing mates. Knowledgeable about house breaking, training, socializing, breeding, health; constantly reads dog-related materials. Knows his lines inside and out.
Not particularly educated about breed, often not aware of his own breed's genetic defects; does not consider mate's genetics. Has own ideas which may not coincide with professionals' opinions; won't bother to read any of the hundreds of dog books available. Knows nothing about the other dogs on puppies' pedigrees.
Willing to give you references.
Requires buyers to spay/neuter pet-quality pups.
Could care less, but if you want to breed, lets talk about buying 'breeding' rights.
Follows up on puppies' well-being and collects health information affecting his dogs.
Does not concern himself with the puppies' well-being or how puppies' health affects his breeding "plan."
Breeds to improve his own dogs, his bloodlines and the breed.
Breeds just to make money.
Only breeds dogs which meet breed standards.
Rarely knows what a 'standard' is.
Only breeds dogs with stable temperaments
Breeds shy/aggressive dogs with poor temperaments.
Only breeds dogs over 2 years old, after health clearances have been done.
Breeds dogs at almost any age, and any number of times, seldom or never does any health clearances.
Sire could be from anywhere in the world.
Sire is whoever is on the premises or the cheapest.
Does all genetic testing and will provide proof. Does not breed animals with genetic defects or which are carriers of defects.
Does no genetic testing; ignorantly breeds defective animals or those which are carriers, thus, perpetuating disease in breed.
Puppies are sold from waiting list created before breeding even takes place.
Puppies are sold after birth in the local newspaper, on retail animal classified sites, on a first-come, first-served basis.
Puppies are sold with health guarantees and on contracts.
Puppies are sold with no guarantee, no contract.
Requires pups back if new homes don't work out.
Would never take a dog back.
Does not own more dogs than he has room, time, or money for.
Puppy mills are overloaded, "warehoused" dogs are not groomed or exercised, don't look healthy or happy.
Puppies are raised indoors, with love. Visitors remove shoes and wash hands to prevent spread of parvovirus.
Has no understanding and takes no precautions to diseases.
Feeds either premium dog food or Raw/B.A.R.F.
Feeds cheapest food available.
Keeps most Clumbers for 4 months, companion quality may be placed younger.
Sold as young as 8 weeks or younger.
Socializes pups by systematically handling them and exposing them to various noises, children and other animals before sending them to new homes.
Does not understand or want to be troubled with any kind of training; just tries to keep puppies quiet and contained until sold.
Tests pups to match their temperaments and drives with buyers' personalities and lifestyles.
Knows nothing about puppy-testing or matching puppies with buyers; allows buyers to pick the "cutest" one.
Can honestly evaluate pups' quality.
Says all pups are high quality.
Never sells to "impulse" buyers. Interviews prospective buyers, checks home and references, refuses to sell to substandard homes.
Is not concerned about buyers being prepared for pups. Sells first-come, first-served to whomever has the cash; does not find out which homes are substandard.
Responsible Breeders improve the breed.
Backyard Breeders and Puppy Mills damage the breed.
A Special Thank You to Tracy Ferris! Islandsussex.com
For your assistance with the information on this page.
Our Goal
We strive in every way possible to improve this remarkable breed and strive to produce pups cleared of genetic defects. Each pup receives individual socialization and training in order to assist it in growing up to be a valued champion, like its parents.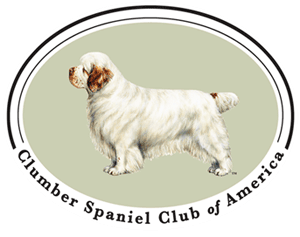 Paradise Clumber Spaniels
5513 Buzzard Neck Rd
Virginia Beach, VA 23457
757-335-2102
For puppies, contact us for more information on availability on upcoming litters.
---